Valentine's Day isn't just for littles! You can take it to the middle and high school classroom, too. Say "be mine" to these resources and ideas that are sure to win the hearts of the tweens and teens you teach.
Valentine's Ideas for the Secondary Classroom: ELA and History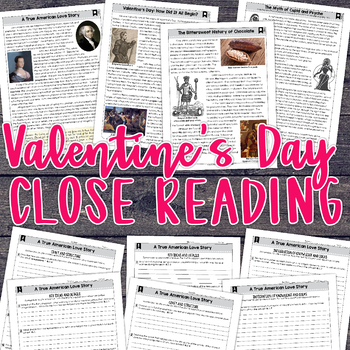 Got to Teach says, "Holidays like Valentine's Day often get skipped over at the secondary level. With all the content that needs to be covered, it's difficult for teachers to find a way to incorporate these fun holidays into the day without sacrificing precious instructional time. These Close Reading Passages for Valentine's Day are a perfect way for secondary educators to teach thematically."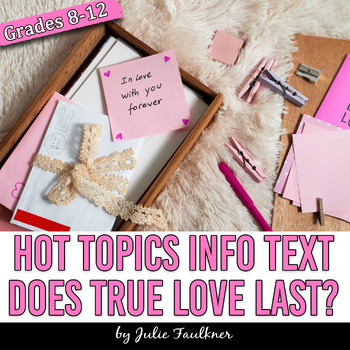 Julie Faulkner adds, "Teenagers are hopeless romantics! I love to pique their interest on Valentine's Day and use holiday-themed lessons when I can, but I'm always very cautious to choose lessons that are standards-based. This Long-Lost Love Lesson is the perfect resource for exercising close reading and summarizing skills."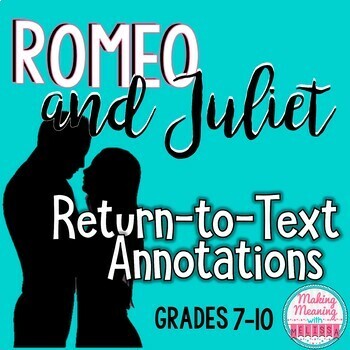 A tip from Making Meaning with Melissa: "I like to teach Romeo and Juliet in February because it fits well with the Valentine's Day/love theme that is foremost high schoolers' brains during this time." The Daring English Teacher also begins her Romeo and Juliet unit in February. "It's the perfect time to introduce love, fate, and Shakespeare! My Ultimate Romeo and Juliet Bundle includes many helpful resources to make teaching this drama as easy as pie!" 
"This is a month to celebrate love," says AZSunsetwoman Literacy 4-9, "and what speaks more eloquently than Elizabeth Barrett Browning's 'How Do I Love Thee?'" "My quick but close reading of her classic poem will challenge students as they work through critical thinking, lit terms, text support, creative writing, and much more!"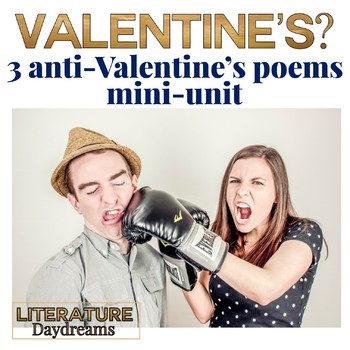 For those students a little wary about love, check out the Anti-Valentine's day bundle from Mrs E's Literature Daydreams. It's designed to "cause a stir!" "I'm a hopeless romantic," admits Juggling ELA, "so sometimes I'll do love poetry in February. A favorite of mine to teach around Valentine's Day is Sonnet 18 by William Shakespeare. Last year I made up task cards with a love theme for Valentine's Day. I know my students very well and there are always some who are anti-love and anti-Valentine's Day. That's why some of my task cards are about love and some of them are anti-love. There are enough cards here for teachers to pick and choose which ones they want to use."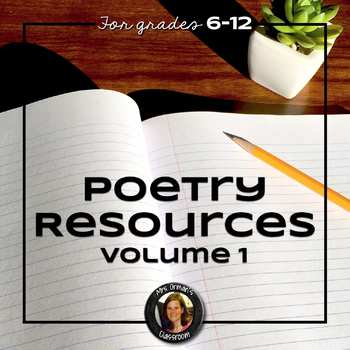 "I always teach my poetry unit in February, though poetry is great anytime," says Tracee Orman. "To make it appealing and a little easier to understand, I have students analyze song lyrics with similar themes as the poems (I play the songs in class so they analyze sound devices, as well). It always brightens up those cloudy winter days! My poetry resources bundle has plenty of song lyric and poem pairings." Ms Fullers Teaching Adventures adds, "Celebrating Valentine's Day is always fun, but to avoid any religious differences, I have students read sonnets by Shakespeare that are about love. This keeps the rigor and content high while giving a nod to the season."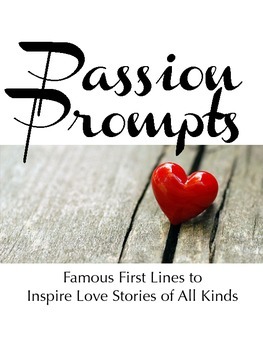 Carla McLeod says," I recently created this freebie, which uses first lines from literature to inspire teen love stories (and no, they need not be based on romantic love)." SLPrunner says "Figurative February! I'm working with figurative language for Valentine's Day!"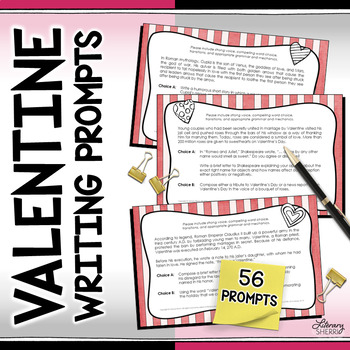 "Love is in the air, but how many students know the fascinating history behind Valentine's Day traditions?" asks Literary Sherri. "From cupid to card exchanges, each element of Valentine's Day is based on fascinating facts and fun trivia! This resource explains the origins of Valentine's Day with 28 relevant writing prompts — sweet!"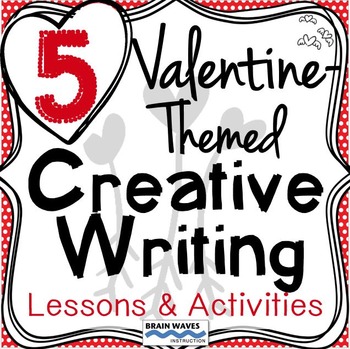 Brain Waves Instruction adds, "There's always room for Valentine's Day-themed creative writing lessons that address critical ELA skills like figurative language, parts of speech, transitions, and elements of poetry." And here's what The Language Arts Classroom has to say: "Dealing with Valentine's day in secondary school is no simple matter. Younger kids get to decorate Valentine's Day boxes and trade sweets with cards. Older kids are sometimes a bit jaded about not celebrating Valentine's Day in school, but I think they're really experiencing growing emotions. Students appreciate exploring their feelings about Valentine's Day, and I acknowledge that L-O-V-E is tricky! I approach this by writing a narrative with students so they can explain what they think about Valentine's Day."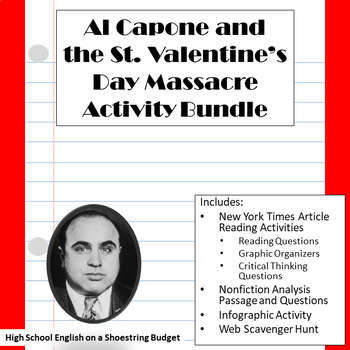 "I like to take a different approach to Valentine's Day in my secondary classroom," explains msdickson. "The last thing my drama-fueled students need is more emphasis on relationships and/or lack thereof. So I distract them with some non-fiction reading and work on the St. Valentine's Day Massacre." Students of History adds, "I use this History of Valentine's Day reading to finish class each Valentine's Day. The article explains who the real St. Valentine was in Rome and how the holiday grew from the Middle Ages through to today."
Valentine's Ideas for the Secondary Classroom: Math and Science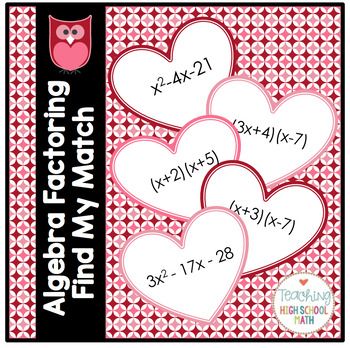 From Teaching High School Math: "I like to have a short Valentine's-themed review that we can do really quickly (and then I give out a fun treat). Here's an activity on factoring: Students are given a heart cut-out with a factoring or FOIL problem. They have to solve the problem and then find their match." She continues, "I have a calculus one that's longer, but it's perfect for Valentine's Day. It's called Find my match, and students are given either an equation or a graph and they have to find their match. It's great for curve-sketching review."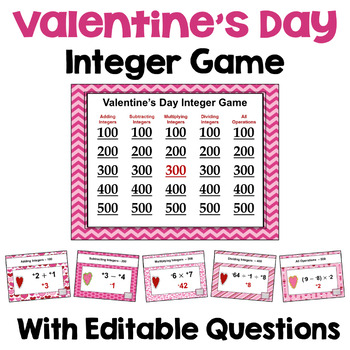 Sheila Cantonwine says, "Looking for an easy way to review Integers during the Valentine's Day season? This is it! With 25 questions, students will have lots of review, and they'll enjoy the Valentine's Day themed clip art and color scheme." Middle School Math Moments adds, "For a fun way to practice fraction, decimal, percent conversions, I'll be using my new Valentine-themed color by number resource." 
Getting Nerdy with Mel and Gerdy have this to say: "Love is the air… or is it in the cytoplasm? Students will let their love flow in this creative science activity as they act as a cell or the human body and they create a Valentine's Day poem and card for the organ or organelle of their choice! Included are template cards for students to use, or they can create their own." Science Stuff says, "Daphnia, Daphnia, How Do I Love Thee? My resource allows students to measure the effects of different environmental conditions on the heart rate of daphnia. Daphnia are small crustaceans whose beating heart is easily observed under a microscope. Three separate activities are included, one of which is a student-designed experiment."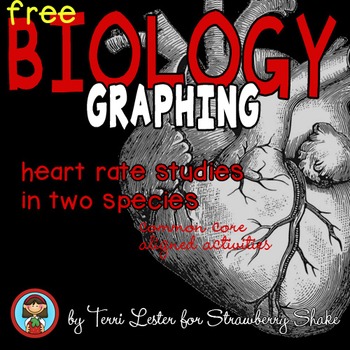 "I have a free resource that looks at heart rates in two species. February is a perfect time to study the heart," says Strawberry Shake.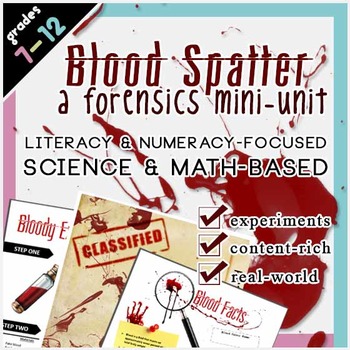 Jadyn Thone says, "The heart makes the blood go 'round, until it stops! Throw a twist on this year's Valentine's Day by introducing your students to the math and science behind the forensics of blood spatter analysis! Students will learn about their blood, bloodstain pattern analysis techniques, conduct their own experiments with gooey blood they've made, and analyze data with this real-world, literacy and numeracy based seven-page mini unit."
Valentine's Ideas for the Secondary Classroom: Spanish and French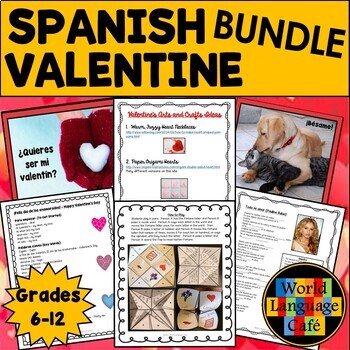 "My favorite world language theme for February is, of course, Valentine's Day," says The World Language Cafe. "Teenagers often feel lonely or left out on Valentine's Day so I try to at least let them feel the love during French or Spanish class. We serenade other classes, write secret valentines, and sing cheesy love songs. It's one of my favorite teaching days of the year. My Valentine's resource is available in French and Spanish." Creative Expressions adds, "Valentine's Day is a great opportunity to introduce new Spanish vocabulary words. Hearts are wonderful for setting up activities for matching up vocabulary lessons. Valentines with Spanish sub-headings are included because middle school students always like coloring and decorating valentines for their loved ones."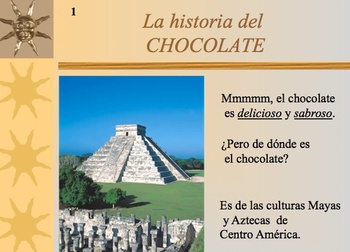 Kate Chung adds, "Here's something for Spanish classrooms of all levels: A lesson about the origins of chocolate! "Spanish Sundries suggests, "Teach the Spanish language and culture at the same time with Valentine's Day (Día de los Enamorados) Infographic Reading Activities. Even new language learners can easily learn new words and phrases with the help of these fun and interesting activities."
***
More delicious and enticing than a big box of chocolates! Find more inspiration for the secondary classroom with Fresh in February for High School and Middle School. Here's to a terrific month!
(Thank you to The Candy Class for the beautiful chevron print used in our feature image.)