This post originally appeared on the blog Peas in a Pod Classroom.
It's always a good time to teach about generosity and gratitude, especially when kids are hyper-focused on 'getting'. This is one of the best times to teach them about the joy of giving. As always, take it easy on yourself! If your days are jam-packed and you don't have time to add this concept into your teaching schedule, no worries. Just make a mental note to tackle it at some point during the year.
Gratitude is a life skill.
Practicing gratitude for the smallest blessings chases away discontent. Learning and practicing this skill early on teaches children how to lift themselves up emotionally when life gets hard. This type of metacognition can equip students to better deal with depression. Academics are surely important, but social emotional skills are must-haves !
Changing 'What can I get?' into 'What can I give?'
One of the ways to teach about the JOY of GIVING that my students and I have truly enjoyed over the years actually originated from the 9/11 terror attack. For all of us in the U.S., the true heroism of our first responders was demonstrated quite vividly during that time. So, one SIMPLE (& yummy!) way to show gratitude is to have the kids take turns bringing in cookies/cakes/treats that will be given to firefighters and police officers.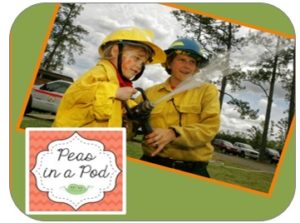 Now, those of you who are 'Type A' folks can complicate this if you'd like, with a calendar, spread sheets, sign-up forms and the like. As for me, I like to just throw out a few random names on a Monday. I remind those same kids each day that it's their turn to bring in 'First Responder treats' on Friday. (By the way, once a month works just fine too if you can't do this every week) …Imagine the kids' faces when a wonderful member of the first responder community comes in to collect the treats! The kids LOVE it and so do the firefighters, EMTs, and police! It also makes for great community-building and newsletter pics, too!
Other Ways Kids Can Give Back
Another great way to teach kids about gratitude (that also incorporates much-needed writing practice) is to have the kids write thank-you notes to members of the community for all the wonderful things that they do. This activity works equally well in upper and lower grade classrooms.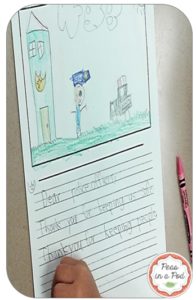 Think of how touched the pharmacist, the veterinarian, the custodian, or the policeman would be to receive a sweet little Thank You note from a local child! The kids have a blast brain-storming who deserves a thank you in their community!
You can cover letter-writing skills, (adding supporting details to main ideas too!). This gratitude-promoting activity promotes values such as empathy and appreciation. The best part is that the kids feel empowered by giving back themselves!
In the Spirit of Giving…
I'd like to offer you a few freebies from my store. I hope your class enjoys them as much as mine does! Click on the picture below: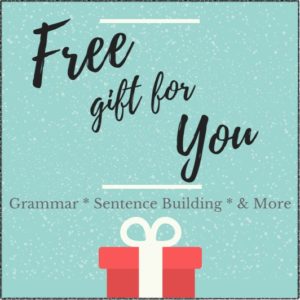 What are some of the ways that you teach your students about giving and gratitude in your classroom?
***
Melissa (from Peas in a Pod) earned her MA in Cross Cultural Teaching. She has been teaching for 10+ years. She is a super friendly, very talkative, teacher in CA. She loves cute new office supplies and a great thrift store find! Check out her innovative ideas at ~Peas in a Pod~. She can also be found on Facebook, Instagram @peasinapodlessons, and Pinterest! Finally, be sure to stop by her blog Peas in a Pod Lessons to peek inside her classroom.