Testing (and the weeks and months leading up to it) can be a stressful time, but that doesn't have to be the case. Here are tips, games, lessons, strategies, and confidence-building activities for teachers of all grade levels to help students do well and feel good during testing season. TpT Teacher-Authors offer their best ideas to keep students eager to learn and motivated to succeed.
Test Prep in the Secondary Classroom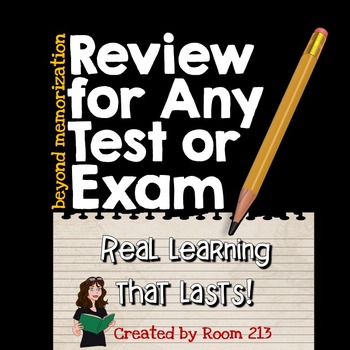 Room 213 says, "I want my students to really learn the material, not just cram it in only to forget about it the moment the test is over. So I try to teach them a process that will allow for more authentic learning. I wrote a blog post about studying as a thinking process." Created by Kelly Ann offers, "I put together a guided step-by-step toolkit for teaching and implementing test-taking strategies with students. It allows the students to be the leaders with a question-of-the-day routine. My students have had much success with this process!"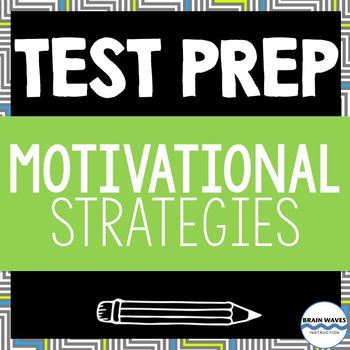 Brain Waves Instruction suggests, "For standard test prep with a little twist, here's an interactive notebook resource on teaching students how to answer multiple-choice questions."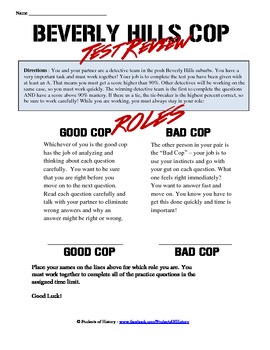 Students of History adds, "Testing can be a stressful experience for students; I like to turn our reviews and prepping for tests into fun games. This Good Cop/Bad Cop test review pairs up students to answer questions. One student is a 'good cop' who is meticulous about getting it right. The 'bad cop' goes with his or her gut to get it finished quickly. They need to work together to get through all of the questions!"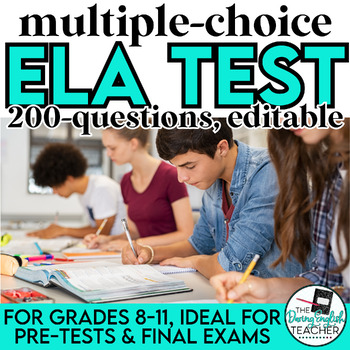 From The Daring English Teacher: "I like to prepare my students in a fun and engaging way that boosts their confidence in their test-taking abilities while allowing them to work in a collaborative setting. I'll have my students gather into small groups and give each group a multiple choice test. Any old multiple choice test works. Here's an editable 100-question test for ELA. Students work with others in their group to answer each question correctly. To take this exercise one step further, they must also provide justification and rationale for each answer."
"Many secondary teachers have this idea that centers are for elementary only," says B's Book Love. "However, I'm a high school English teacher, and I love using centers for my EOC test prep! I have students do an activity at each center that pertains to the test questions with that same concept. After they do the activity and test questions at each center, I quickly scan their answers. We then repeat the centers while doing test corrections. They love it!"
Test Prep in the Elementary Classroom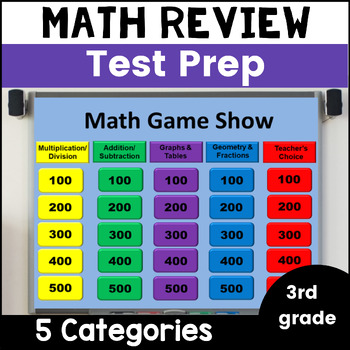 Jennifer Dowell says, "I try to implement as many games as possible. We put word problems in the hall and turn it into a scavenger hunt." Teach123-Michelle adds, "I found using baseball terms helped my students since many of them played little league. This post explains more about it and includes a freebie, too!" Teaching In the Fast Lane adds, "Take a look at my game Stinky Feet that can be used with any content area and any type of question."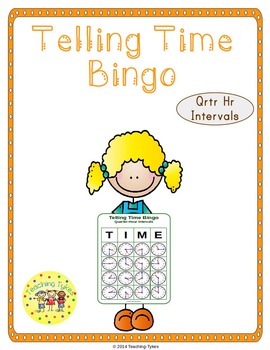 "Games are fabulous for reviewing and reinforcing but also for relaxing and de-stressing," explains Teaching Tykes. "So many students (and parents and teachers) get too stressed out during testing season. It's nice to relax — while still prepping and reviewing — with a game or two. Here's a Time to the Quarter Hour Bingo game that we love to play."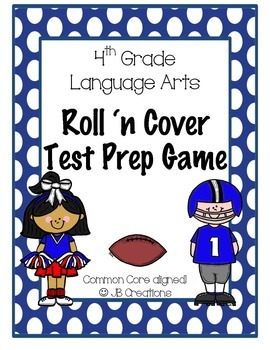 JB Creations says, "I play a partner game I created with my students called Test Prep Roll 'n Cover Language Arts Game (3rd -5th grade Common Core). They really enjoy it, plus it's a good mix of skill review for language arts!" Amber Thomas adds, "As part of our test prep, my grade level partner and I combine our classes for review games. Our 4th graders get so excited about spending time in a different room, with different peers! I've blogged about it here."
From Shelly Rees: "How about a fun game of tic-tac-toe using task cards? You can use this type of review activity with Connect 4, Checkers, Jenga, or really any other board game or card game. Check out my selection of math task cards, which are perfect for test prep. Also, a group of upper elementary teachers are bringing teachers some great test prep ideas, tips, and ideas during the entire month of February on our blog, We are "Rockin the Test with Less Prep and Less Stress and would love to share our ideas with you!"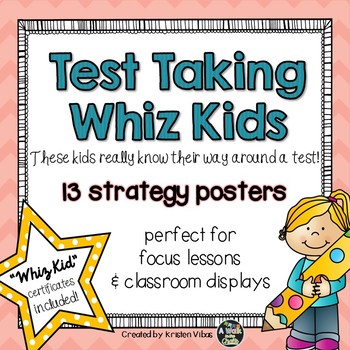 Kristen Vibas adds, "I introduce my Test Taking Whiz Kids resource at the beginning of the year so that my students get to know each of them. Each whiz kid specializes in a test-taking strategy. These mini posters are the perfect jumping-off point when teaching specific strategies and are the perfect posters to display on the wall as an ongoing resource! Students master these strategies, then become testing-taking whiz kids themselves!" And Momma with a Teaching Mission says, "The day before we take a test, my 1st graders and I review concepts by playing SCOOT! I recently wrote a blog post about it. The day of the test, before we get started, we do some quick visualizing activities on the carpet while taking deep breaths. This strategy has helped to calm even the most wiggly students!"
F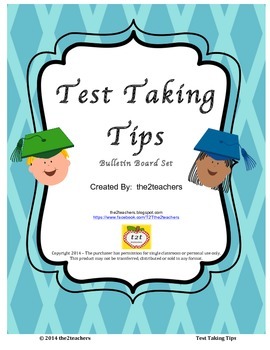 rom the2teachers offers this: "We developed a test-taking strategies bulletin board set. As we talk about each strategy, it goes up on the wall. We add to it as we go through the year. It grows in a meaningful way and is on display as a reminder. The best part is that I catch kids glancing at the signs and reminding one another of a strategy. It doesn't get any better than that!"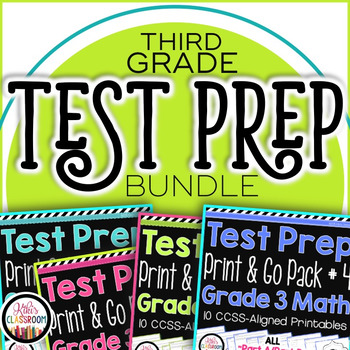 From Kiki's Classroom: "We've taught the skills, and students have a firm grasp on the content, but then the test comes along with an unfamiliar format, different vocabulary, or a computer interface that challenges even tech-savvy teachers. I think it's important to prepare kids for those factors the best we can, just to reduce their anxiety on testing day. I prefer doing that in small doses, and I've always enjoyed making a game out of it: We play Human Tic-Tac-Toe, and the kids go bonkers for it. This provides an opportunity to squeeze in little reminders about test-taking strategies and vocabulary, and also to reinforce the concepts I know are most difficult for my kids. Here are some test prep materials perfect for this kind of review."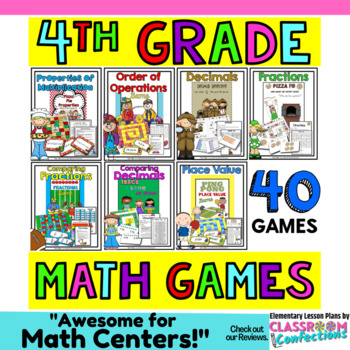 Elementary Lesson Plans adds, "Here's a pack that has a game for just about every skill we learn in 4th grade math. Plus, if there are a few students that need to be retaught a skill with a mini lesson, just pull them aside from a game while the others continue playing." Ashleigh offers, "I add error analysis practice to our math work stations, because I think this allows students to see potential 'tricks' on standardized tests."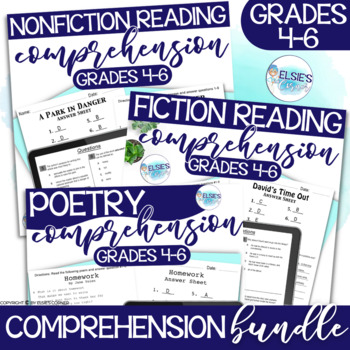 Words from Elsie's Corner: "As teachers, we've all met plenty of good, and even great, readers who are not good test takers. It's difficult not to chalk this up to a lack of test taking experience. And now with the Common Core up and running, our students need even more test taking savvy. We decided to create materials that would not only match the intensity of what the students will encounter, but also give them experience with the types of questions they'll be expected to grapple with." Yearn to Learn adds, "I make use of a Test Smart Bulletin Board. I have it up all year long and post my Test Tip Poster Set on it. This provides constant daily reinforcement of test skill strategies."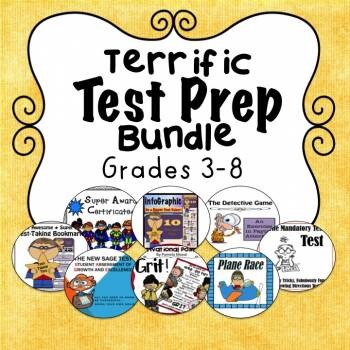 Pamela Moeai says, "I really try to motivate my students and get them excited about taking the end-of-year, high-stakes tests. To start with, I stopped calling them just 'tests' and started referring to them as 'The Show What You Know' tests. I try to engage my students in fun activities. For example, I've created infographics, bookmarks, interactive PowerPoints, motivational posters, and award certificates for the students. For the teachers, I've created a SAGE Test Intro PPT and Testing Signs to make their lives easier! The trick, I feel, to a successful 'testing season' is to have a positive attitude about the tests. If we're excited about the tests, the students will feel it and mirror those same positive and excited feelings. Are your kids ready to 'Show What They Know'? Here are all of the resources I use to get the testing season underway."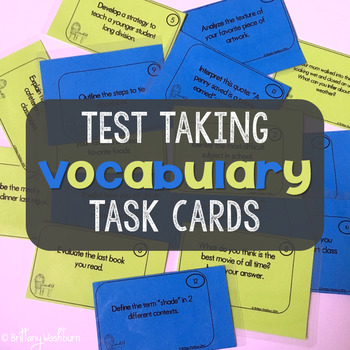 Brittany Washburn says, "Intermediate students need to practice using 'testing' vocabulary every day in a low-stress environment." Sandra Naufal adds, "I incorporate Visual Rubrics and Qualifiers from the start of the year into everything we do. The students are involved in evaluating their own progress and learn to enjoy evaluating one another. Using 'testing' language from the start assists students in understanding the process needed to succeed. If you ever have the opportunity to grade a standardized test with colleagues from various jurisdictions, I would highly recommend it. As an educator, you gain better insight into each level assigned. In my classroom, involving students in the process of creating rubrics helps develop a clear picture of the criteria necessary to complete the assigned task. Providing visual rubrics also assists students in understanding the different levels associated with assessment."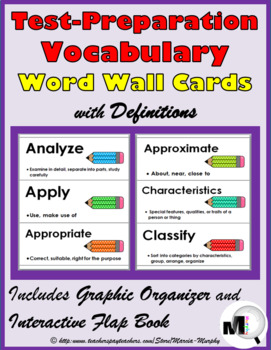 "I noticed that my students were well-prepared for the academic subject matter but were having difficulty because they didn't understand a lot of the vocabulary terms often found on the state tests," explains Marcia Murphy. These words are not frequently used in oral speaking situations but are very much used in standardized testing. They weren't sure what the question was asking them to do. My Test Prep Vocabulary Word Wall Cards with Definitions contains 70 of these terms that cause problems for lots of students."
 Motivating and Confidence-Building Ideas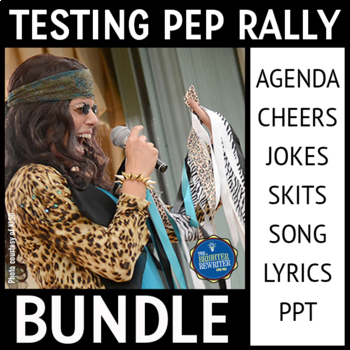 From The Brighter Rewriter: "Another really fun way to prepare for testing is with a test prep pep rally. The kids love them! Teachers cheer, dress in costumes, lip-sync to songs with rewritten lyrics, dance, and perform in skits. It's also great stress relief! I have a freebie in my store that includes a sample pep rally agenda, cheers, and one set of lyrics for a song. I also have a paid bundle. Take a look!"
Melissa Shutler- Evidence of Learning has a special story to share: "Recently, a boy in my class started crying because a test question was difficult. I told him that the test could smell his fear, and when our tears fall on it, the test wins! He and the entire class laughed. So now we always use the phrase 'don't let the test win' because a test can't measure how truly smart we are. All we can do is face it with confidence. If we get through a test without fear, we always win." The Busy Class adds, "I talk to my class about how every 4th grader in Florida is taking the same test on the same day. It helps them realize that they're all in the same boat. Every morning of testing, we have healthy snacks and I talk to each student individually about how they're feeling and how they slept. After testing we always work on fun, creative projects. Last year, I used activities from Art with Jenny K.  Each year, I use this freebie from More Time to Teach to get parents involved in motivating and surprising their children before testing."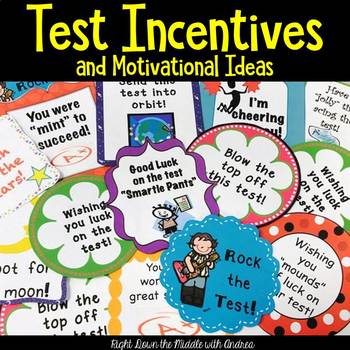 Right Down the Middle with Andrea offers this insight: "Testing can be very stressful on everyone: students, teachers, administration, and the parents. During the days leading up to the test, we continue our normal routines. We review through games and hands-on activities that are engaging and less stressful. On my end, I'm busy getting all of their testing incentives ready to give to them each day they test. I love to see the smiles on their faces when they receive their goodies for the day. Remember, testing should be about seeing how far students have grown over the academic year. Teachers, just keep doing what you're doing. You're great teachers and will prepare the students to succeed!"
More than a Worksheet adds, "Third grade in Florida is a mandatory retention year, which means if they fail the reading portion of the test, they are retained. It's also the first year students take the tests. I used to send students home with a secret packet that included a blank notecard and envelope with instructions for parents to write their child a note of encouragement. I would put them on their desks as a nice surprise on the first day of testing. They came in nervous and jittery but as they read the notes, I could feel the tension receding in the room. Many would keep the note in their desks and look back at it for weeks to come."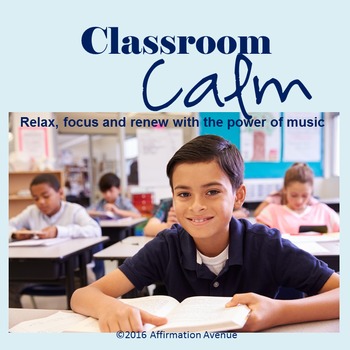 "One thing that helps a lot during test prep time, is inviting a sense of calm into our environment," says Power Learning. We give ourselves permission to think, to be still, to be okay, and to refuse to allow stress to rob of us of the chance to show what we really do know! My Classroom Calm resource is a great way to usher in a restfulness that truly renews us in times of high stress!"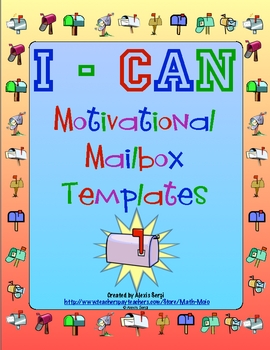 "One of the big things I do during test prep is work to build student confidence and classroom community," explains Math Mojo. "Each child makes an I Can creation, which is a can-shaped mailbox that's filled with encouraging notes for testing. Parents, teachers, support staff, and students write encouraging notes that I deliver during testing. The students love it, and it helps alleviate pressure on the days of the test.  I love this project so much that I made it a freebie!"
We hope these tips and tools help you ensure that your students are prepared and confident heading into standardized tests.
(Feature image: Thanks to Workaholic NBCT for the Kids and Signs image and Kimberly Geswein Fonts for the KG Falling Slowly font.)