This post originally appeared on the blog Keith Geswein.
When I think about my experiences in school, I remember being bored during reading class. The stories in our reading book were always so boring. I remember rushing through my work so I could read the things that I wanted, which were books about sports!
My best memories of school are from the books fairs because there were books about football and basketball!! Every year, I eagerly bought all the books about my favorite athletes and teams. Then I returned to class and rushed through my work so I could read them. I credit these sports books for developing my reading skills because I was such a picky reader. I bet some of my teachers considered me a "reluctant reader."
Fast forward (more years than I'd like to admit) and I realize that several 5th graders in my class are just like me. There are lots of kids who are desperate for something to read that they can relate to. I feel like there are many great fiction books, but it seems a lot of students zone out when they read nonfiction. We have kids in our class who are huge sports fans, but I've noticed there's a shortage of high-quality, nonfiction reading material about sports.
That's why I have written over 200 passages about famous athletes for grades 1-6.
Here's what my passages about Steph Curry and Kobe Bryant look like. (Steph and Kobe are famous basketball players.) If you click the image, it will take you to that product and you can download a preview.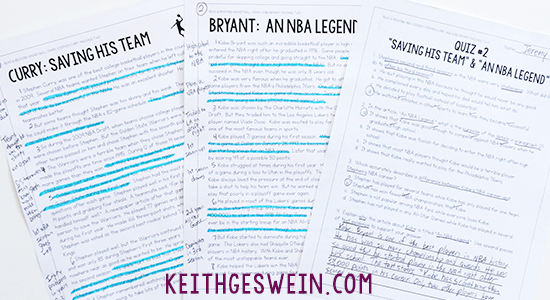 Students will perform better in reading class if they are reading about a topic they care about. We have tons of kids who love sports, but it seems like there aren't enough stories about athletes. The passages I've written about LeBron James, Cam Newton, Lionel Messi, Usain Bolt, or Simone Biles will light a spark under some of your reluctant readers because they will finally be reading about a topic they care about.
I've been pleased to hear from many teachers that these passages engage even their most reluctant readers, students who sound just like me when I was in school! Here are some of the things teachers have said after using my paired texts with their students:
"It really peaked the interest of my 4th graders, especially the boys…kids were asking to do extra!"
"Students loved these and begged for more!"
"My students cheer when they see these selections. The question that comes after is, 'Can we have more? We love reading about sports figures.'"
"All of the texts are full of great information. Finally, I've found something that my kids will read!!"
"We used it for center time and they were talking about the players long after!"
"My students really enjoyed reading them which makes teaching a whole lot easier."
"Boys in my middle school intervention class loved this! Something they would finally read about willingly!"
"The kids loved how they could relate to the topic. They're much more engaged when they love the topic!"
"All of my students enjoyed the passages and they sparked lively discussions."
I started by writing these passages on a 5th-6th grade reading level. Then I had several teachers say they needed these passages written on lower reading levels. So I have also created several sets for kids who are reading on a 3rd-4th grade reading level and a 1st-2nd grade reading level.
The following three images show an example one set of paired texts written on a range of reading levels. Click any of these three images to download a free sample that best suits your needs, or grab them all so you can differentiate!
If you'd like to see more, click any of the three images below to browse my selection of paired texts for the reading level you want. Most sets are either $3 or $4.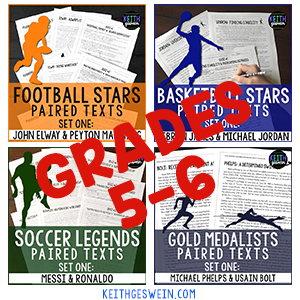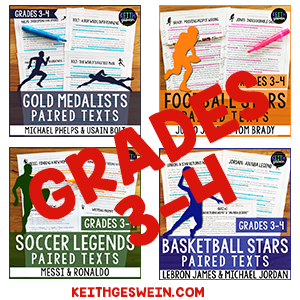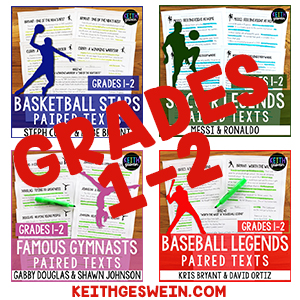 I make sure to include stories about these athletes working hard, overcoming challenges, and dealing with criticism. I also include passages about each athletes' charity work. I'm confident your students will learn a ton about hard work, perseverance, and helping others by reading about these athletes.
I spent 30-40 hours researching, writing, and proofreading each set of paired texts. I ensure all of the quiz questions are aligned to new standards. I triple check facts in the passages for accuracy.
I've been a huge sports fan my whole life. These passages will help some of your students become a huge fan of your reading lessons.
***
Keith taught 3rd grade and 5th grade for 14 years. He taught in Texas, China, and Florida. He loves designing resources that help teachers read quality literature with their students. Keith's favorite part of teaching was seeing a student who could not put down something that he or she was reading! You can connect with Keith via his TpT store, which also includes novel studies for over 40 books. Or check out his Pinterest pages!