We asked TpT Teacher-Authors to share some of their resources and ideas for keeping Presidents' Day fresh and engaging in the classroom. From a t-shirt project to an in-depth lesson on why Lincoln grew a beard, these thought-provoking Presidents' Day resources are sure to get your students' vote.
Celebrate Presidents' Day in Your Classroom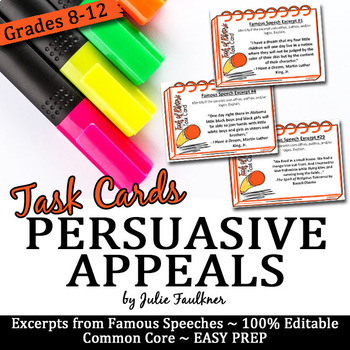 "I love using task cards at the secondary level for differentiation, interaction, and more," says Julie Faulkner. "Take a look at this edition in my task cards line: Persuasive/Rhetorical Appeals Speech Excerpts (Ethos Pathos Logos) Task Cards (grades 9-12). In it are excerpts from several presidents' famous speeches, which are perfect for analyzing ethos, pathos, and logos as well as sparking discussions on many different topics!"
From Social Studies Super Store: "As a middle and high school teacher, I love sharing my SECONDARY – Presidential Football Players resource (grades 7-12) with my students, especially those who love football! It focuses on the five American presidents who played football while in college."
Turbo Tutor says, "Your middle and high school students will have so much fun with this Presidents' Day Trivia resource (grades 6-11). It's available as worksheets or a PowerPoint game!"
That Rocks Math Science and ELA says, "We have a Presidents' Day Fun packet of logic puzzles for middle schoolers! The puzzles are based on facts, and contain interesting tidbits about which president is on which dollar bill, the ages of presidents at their inaugurations, and accomplishments of some lesser-known presidents. You'll find grid logic puzzles, a cryptogram, and a grid drawing. We also include an academic activity in which kids match a president's duties to six major roles of the president. We use our logic puzzles when we want to incorporate holidays like Presidents' Day, but have curriculum restraints to work around. Here they are: Presidents' Day Fun- Five Logic Puzzles for Middle School Kids (grades 6-8)."
Mark Aaron explains, "Abraham Lincoln had an iconic beard that he wore during his presidency. But many don't know that he might not have ever been elected president or grown the beard if not for a letter sent to him by a young girl during the 1860 Presidential election. My Why Lincoln Grew A Beard: Common Core-Aligned Passage and Assessment resource (grades 5-8) tells the story of the exchange of letters between Lincoln and 11-year old Grace Bedell that changed our nation's history."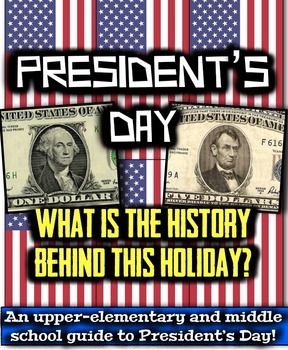 From Mr Educator – A Social Studies Professional: "Each year, I try to teach the history of Presidents' Day because so many students don't realize how varied it can be in each state. This is one of the only holidays that's called something different based on where you live. The federal government refers to this day as 'Washington's Birthday,' however many states opt for 'President's Day' and others do 'Presidents Day' or 'Presidents' Day.' I like to keep it simple with a timeline and crossword activity that's fun, informative, and quick. Take a look at my Presidents Day (Washington's Birthday): What is the History behind this Holiday? resource (grades 5-8)."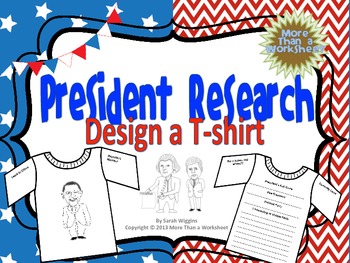 More Than a Worksheet says, "My President Research: Design a T-shirt resource (grades 3-6) includes a simple T-shirt template where students do research and fill in the information on the T-shirt. The front includes a picture of the President they've selected to learn more about. It's a fun and simple take on President-related research!"
From Open Wide the World: "I grew up in Illinois and have such fond memories of visiting the Lincoln sites and learning about President Lincoln in my elementary days. Lincoln's store in New Salem was always a highlight! In recent years, when I discovered the dearth of resources to share my love of Presidents' Day with our Dual Language/Immersion program, I couldn't wait to create a packet! Here's what I created to inspire learning in our Spanish-speaking program: Spanish Dual Language Presidents Day el Día del Presidente (grades 3-5)."
"I use many holidays throughout the year as opportunities to learn new vocabulary and practice guessing meaning from context clues. Presidents' Day is no exception," explains Fun with Language. "I've found that a task card format works really well for activities like this. Here are my Context Clues Task Cards for President's Day or July Patriotic America (grades 3-5)."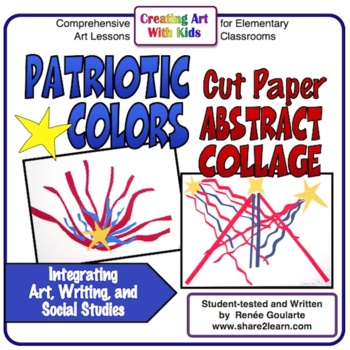 "My Patriotic Colors Cut Paper Abstract Collage Art Lesson (grades 2-5) is a perfect addition to Presidents'3`1 Day units," says Renee Goularte Share2Learn. "Depending on which direction the teacher wants to go and the age of the students, it has a 'looking at art' component where students discuss some red, white, and blue art by Alexander Calder. It can also be the basis of a lesson on symbolism and the history of the American flag. This is a great way to give students a real creative opportunity along with a little art history and sneak some authentic art instruction into the classroom!"
"In my classroom, my kids LOVE close reading, and they dig into any text that is non-fiction," says Education to the Core. "Presidents' Day is always a favorite amongst my students, so I use my close reads filled with facts about Abraham Lincoln, George Washington, and Barack Obama. Students can also record what they read using a variety of recording sheets included in the pack. I can feel good about having fun, knowing that I'm teaching up to the level of rigor I need for my kids." Take a look: President's Day (grades 1-4)."
"I created an integrated unit centered around Presidents' Day. It's become one of my all-time favorite units!" explains Primarily Speaking by Aimee Salazar. "It includes reading passages with comprehension questions, writing prompts, note-taking pages, graphic organizers, a Scoot game where students evaluate statements and determine if they're true or false, an I Spy Game where students identify the president being referred to on each task card, and much more! Take a look: Presidents' Day (grades 1-2)."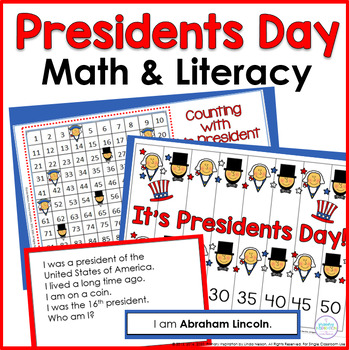 Linda Nelson aims to integrate math and literacy into other subject areas. Here's her Presidents Day Common Core Mini Pack Math & Literacy resource (grades 1-2).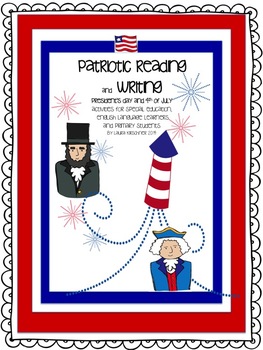 From Special Ed Pro: "Here's my Patriotic Reading and Writing/President's Day/Independence Day resource (grades K-4), which is designed with special education, ELL, and intervention students in mind! The activities are fairly open-ended, with varying abilities and grade levels in mind, and my favorite part is the list of tried-and-true patriotic books!"
TeacherScrapbook says, "My Presidents' Day Craft Activity (grades PreK-2) is great for the little ones. They love wearing the sashes and the hats!"
***
More Presidents' Day resources:
"The best way to predict the future is to create it." – Abraham Lincoln