A teacher's time is valuable, and so is his or her students'. One of the largest complaints among teachers is that they don't feel they have enough time to REALLY teach the required curriculum. This has never been more true than it is today. This is also the exact reason I became so passionate to find ways to maximize my students' time while learning. Some of my ideas worked, and some I would prefer not to mention. However, here are three effective ways I have found to maximize math centers.
Build a Well-Oiled-Machine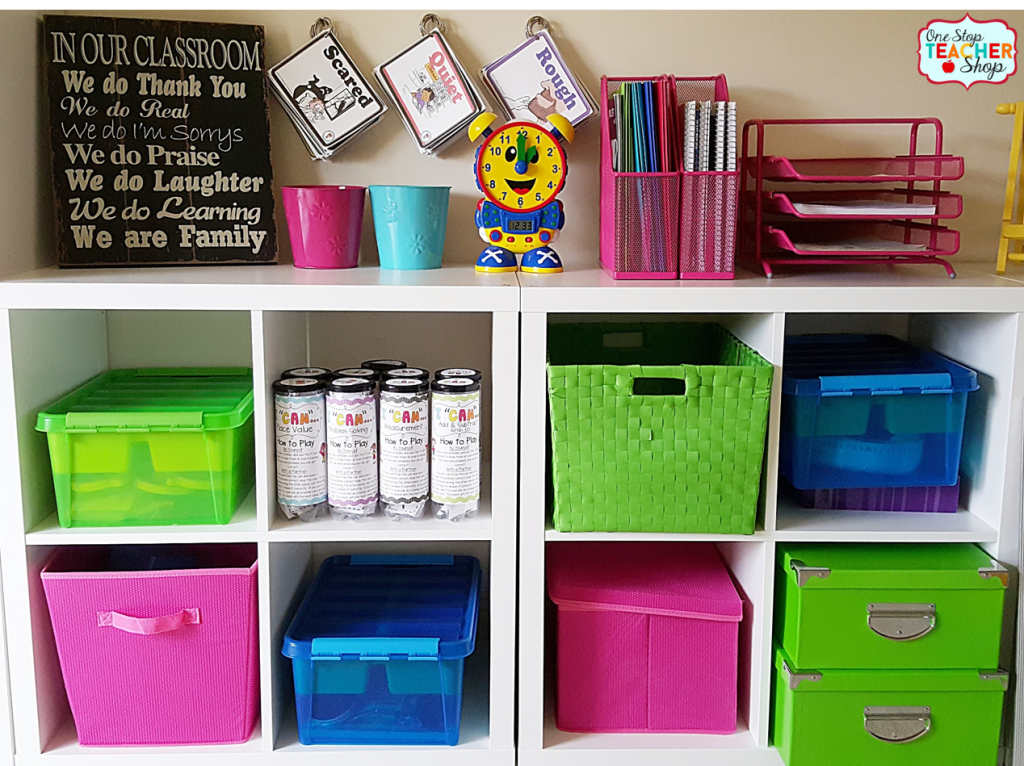 Also known as "classroom management," this is by far the most important tip for getting the most out of math centers. If you're just now giving math centers a try, or you have been unsuccessful in implementing them, you must start here.
Take some time to brainstorm how you want your center time to run.
Be sure to think about:
How you are going to organize your materials.
How your students will transition between centers.
When and how your students will choose partners.
What noise level you would like your class to stay below.
How students will handle all materials and manipulatives.
What students should do if they finish a center early.
How students should get their questions answered without disrupting the teacher.
Once you figure out what rules, procedures, and routines you MUST have, teach and review them for about two weeks. Have your students run through their centers while you walk around the room, providing feedback as needed. Once you feel your students fully understand your expectations, you are at "well-oiled-machine" status.
If you need some additional help on how to organize and manage your math centers, HERE is a great resource from Clutter-Free Classroom that is loaded with tips and ideas for getting started.
Choose On-Level Activities
Just like in reading, every student has a different math level. One problem I noticed while conducting math centers in my own classroom was that if a student didn't understand the center activity, they didn't do it. If a student is not doing their assigned activity, they are wasting their own learning time and probably the learning time of their friends nearby.
To solve this problem, I spent lots of time finding and collecting quality games that gave me the option to differentiate. These types of games made it easy to accommodate the different levels within my classroom. I also made sure I prepared them ahead of time so that all I had to do was pull a game out of my cabinet. Boom — differentiated centers in seconds!
Here are some of my favorite "I Can" math games. In this case, I was able to use two different formats of the same game to accommodate my students: multiple choice and short answer. You can check out all of my I Can Math Games in my Teachers Pay Teachers store (grades K-5).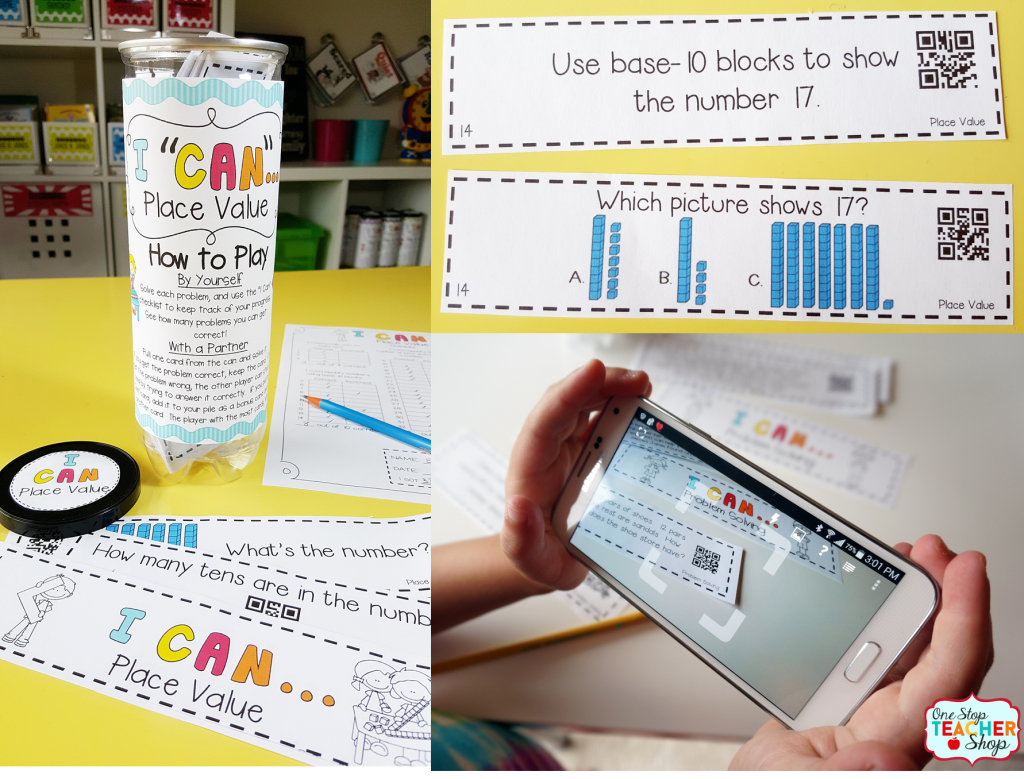 Make Your Centers Work For You – Don't Work For Your Centers
With everything teachers have to do, why not use math centers that can help you save time in other areas? Here are a few ways I made sure my math centers were working for me.
My school required all students to use specific math computer programs each week. Instead of lining up my students and taking that long walk to the computer lab (#wasteoftime), I signed-up for the laptop/tablet cart at my school. My students would use one of their math centers each week to work on our school math program. Such a great time saver! Be sure to have a good routine in place if you're going to use electronics, or they could become a "time-taker" instead of a "time-saver."
At times, gathering grades can be a tough task. For this reason, I collected two of my weekly center activities as grades. Not only did this help me out, but it taught my students that their work during center time was important.
Progress Monitoring always took a lot of my teaching time. To solve this problem, I decided to turn my "I Can" math game into a tool I could use to assess a student's progress. What I loved about this idea was that I was able to turn the task of progress monitoring into something students enjoyed.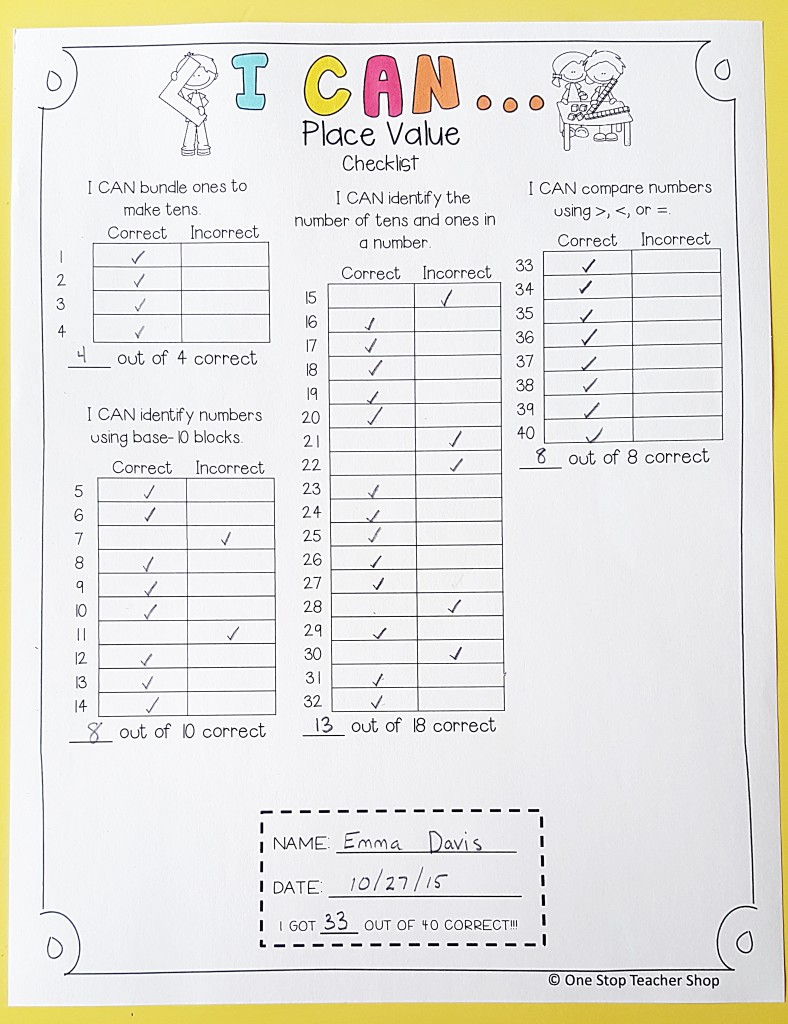 I have a passion for math centers in the classroom, and I hope some of my tips will help you take full advantage of this time in your classroom. If you are in need of some games, feel free to grab some FREE math games from my store on Teachers Pay Teachers.
****

From Lawrenceville, Georgia, Kristin is One Stop Teacher Shop. Kristin has a Master's degree in Elementary Reading and Mathematics and has taught 3rd-5th grade. She always knew she wanted to be a teacher and says the idea really gelled when in middle school, she was asked to help a struggling student: "That was it… I was a Teacher (or at least I knew that's what I wanted to be). The feeling of helping someone else learn something just made me… happy! I couldn't get enough."
Follow her on her blog One Stop Teacher Shop, on Facebook, and on Pinterest for resource updates and teacher tips.