This post originally appeared on the blog Keith Geswein.
(Yes, that's my daughter reading Hoot. My legs are still sore!)
The best part of teaching 5th grade is watching kids get really excited about a good book. It's such a shame that reading "experts" in so many districts require teachers to use test-prep passages to teach reading. 5th graders are at an age where they crave relationships. They love reading good books because they feel a connection with the story's characters —something that's impossible to do with a 2-3 page test-prep passage.
I've got about 8-10 awesome go-to books that I know 5th graders love. But I always struggled to find time to read new books. Then if I found a good book, I had to find resources to help me teach the standards using that book.
My goal with this blog post is to give you a brief description of four books and link you to resources I've created that can help you cover the standards while using quality literature. I want you to be able to enjoy these books with your class, not worry about finding activities.
I know you can Google the synopsis of these books, but I will explain a few reasons why 5th graders will enjoy them. Click the images if you'd like to see the novel study resources I've created for each book.
Ungifted by Gordon Korman
This is about a boy (Donovan) who gets sent to a new school so he can avoid a huge punishment. But then he surprisingly ends up enjoying this new school way more than his old one.
5th graders will love this book because:
–Donovan does not fit in at his new school because he's not as smart as everyone else. But he finds ways to fit in, earn the respect of his new classmates, and show that intelligence is not something that is only measured by grades on a report card.
–Donovan is very loyal to his family.
–Donovan is not afraid to take risks. Here's a response from one of my 5th graders who loves that Donovan is not a "normal" character.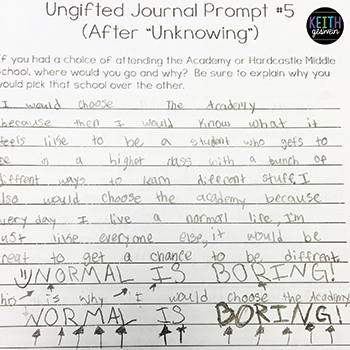 Hoot by Carl Hiaasen
This is about a boy named Roy who helps two other kids stand up to a major corporation so lots of animals will be able to keep their home.
5th graders will love this book because:
–Roy's new friends delay this corporation's project through some creative and funny methods, one of which involves putting gators in port-a-potties.
–They are protecting adorable baby owls.
–Roy stands up to a boy who is bullying him, but not by fighting him.
–At first, Roy has problems adjusting to his family's move from Montana to Florida. I'm sure you have students who have moved and miss their old home.
As you can see from the picture above, my daughter couldn't put this book down! Here are the novel study resources I've created that gave my students things to write about and discuss as they read Hoot.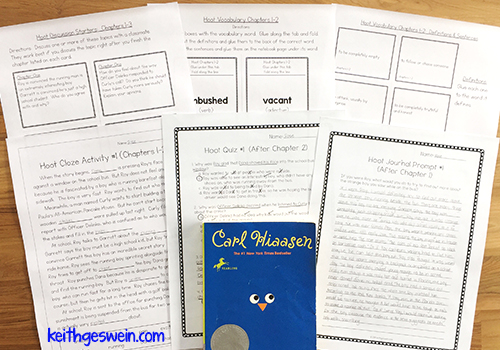 Roll of Thunder Hear My Cry by Mildred D. Taylor
This story does a brilliant job of illustrating the life of an African-American family living in Mississippi in the 1930s. Students will learn how racism affected the lives of African-American families during this time. Students should realize how racist comments and actions have a devastating impact on people's lives. Hopefully, after reading about Cassie's family, your students will think twice about making racist comments and/or posting hateful messages and images on social media.
5th graders will love this book because:
–Cassie is a very strong-willed young girl who stands up for what is right. She has to make many difficult decisions. Sometimes she regrets her choices. But she always tries to do the right thing.
–Cassie's parents and grandmother refuse to respond to racism with violence. Instead, they come together in support of the entire black community.
–Your students have probably heard, or been the victim of, racist comments. Cassie and her family will help your students learn the importance of standing up against racism, and ways of doing so without fighting.
–Your students will develop a STRONG connection with Cassie's family. They will feel angry and sad about the racist things that are done in the story. Prepare for some deep questions and strong emotions as your students read this…which is exactly what we want when kids read, right?
There are LOTS of ways for your students to respond to this book!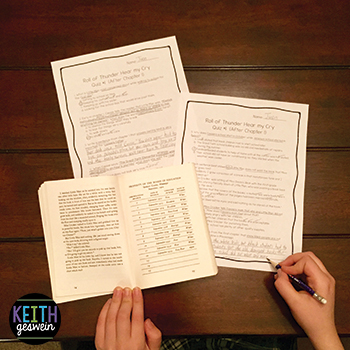 Pie by Sarah Weeks
This is a fun book about a girl's mission to carry on her aunt's legacy of baking wonderful pies as a way to unite her community. The girl, Alice, also mends her rocky relationship with her mom, solves a mystery, and gains a lifelong friend. If you're looking for a new book to try with your class, I highly recommend Pie!
5th graders will love this book because:
–Every chapter starts with a pie recipe! Don't read this book on an empty stomach!
–After Alice's Aunt Polly (the famous pie chef) dies, many people try to get their hands on her secret recipes. There are several mysteries that Alice attempts to figure out regarding this recipe. Alice also has to figure out who is trying to steal these recipes.
–In the end, Alice learns to be content with whatever life gives you. She gets along much better with her mom. And she carries on her aunt's legacy of baking pies to unite the community.
–This book was selected by Florida students in grades 3-5 as the best book on the state's 2015-16 SSYRA list! Every year, the SSYRA (Sunshine State Young Readers Award) committee selects 15 awesome books for students to read that year. Then kids across Florida who read them vote on a winner. It's a really cool process! I taught fifth grade in Florida for five years and always loved the books on the SSYRA list!
–Again, discussion and response topics are numerous with this book!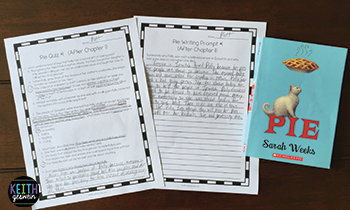 I know the pressure to teach test-prep passages is enormous. It's a shame that lots of teachers feel like they have to "sneak" good books in during their reading block instead using those boring passages. But I hope you are able to read these books with your class this year. I have created writing prompts and quizzes for each book. For Hoot, I also have made vocabulary pages, cloze activities, and task cards with discussion topics. Click the picture below to check them out! They are available together at a discounted price, or individually if you'd prefer.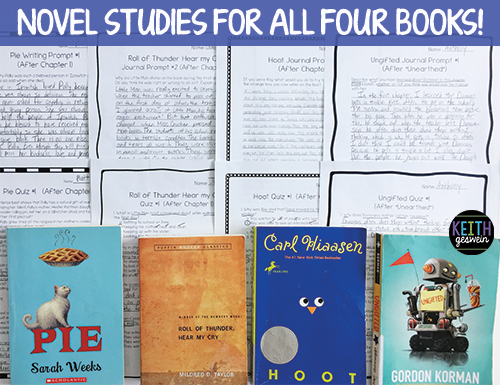 ***
Keith loves developing resources that help teachers read quality literature with their students. His goal is to design resources to help students develop a lifelong love of reading. He enjoys blogging about books that help students understand the importance of growth mindset. He has about 40 novel studies and over 100 sets of paired texts available in his TpT store.
Keith taught 3rd grade and 5th grade in Texas, China, and Florida. His favorite part of teaching was reading awesome books like Wonder, Holes, and Esperanza Rising with his students. You can check out Keith's teaching blog here, or you can visit him on Facebook.