This post originally appeared on the blog The Science Penguin.
I know quite a few districts and states are on an "extended break" due to COVID-19. This is brand new territory. I want to prioritize doing what's best for students, families, and educators.
I encourage you to provide these activities as offerings to families, not requirements.
Many families are being pulled in different directions. They need childcare. They need to work. They may be working from home. They may be out of work. They may be ill. They may be stretched financially. They may be hungry. On the other hand, some families want something meaningful for their children to do while they're home.
For some kids, educational activities to complete would be helpful. For others, it would present a burden.
I know many teachers are parents first and will have their own kids with them at home. They have parents and grandparents who may need care. They have lives outside of school that should be considered. I hope providing these resources helps make your job easier.
As a curriculum creator, I'm trying to figure out where to direct my time and resources. I want to support teachers and students in the best way I can. I've had a lot of requests for resource suggestions for learning at home so hopefully I can help by sharing information and resources.
Outdoor Scavenger Hunts
My daughter and I went on a nature walk this morning and it occurred to me that my focused outdoor science scavenger hunts might be helpful to families looking for engaging science activities. These were originally written for school use, but I've modified the directions slightly for use at home.
These 4 scavenger hunts are taken from my Out the Door to Explore resource. They require no prep, just some space outdoors.
Available in both English and Spanish.
Download now! Scavenger Hunts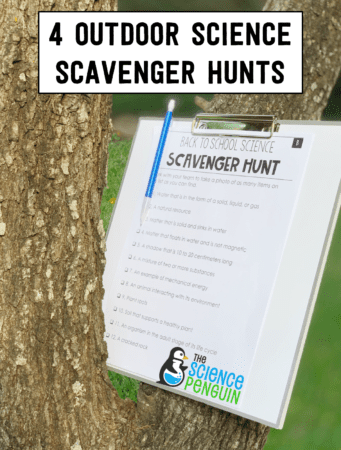 Family Science at Home & Outdoors
Simple investigations. Simple materials. I adapted some of my investigations that are successful in school so that families and students can be successful completing investigations OUT of school. These are designed for grades 2-6.
Family Science: Sink or Swim!
Physical Science- Determine whether natural objects sink or float then build a raft to help a sad stone escape the deserted island.
Free Download on TPT: Family Science: Sink or Swim!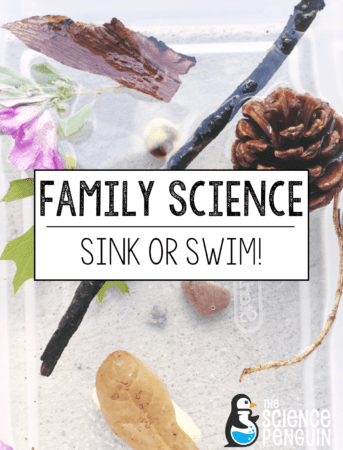 Family Science: Ecosystem Observations
Life Science- Observe the living and nonliving things right in your backyard (or any safe outdoor area).
Free Download on TPT: Family Science: Microecosystem Observations
Shadow Investigation:
Earth Science- Build a structure and track the change to its shadow throughout the day.
Free Download on TPT: Family Science: How do shadows change throughout the day?
I hope this helps educators and families who are looking for activities to do at home.
Want to learn more about what The Science Penguin has to offer?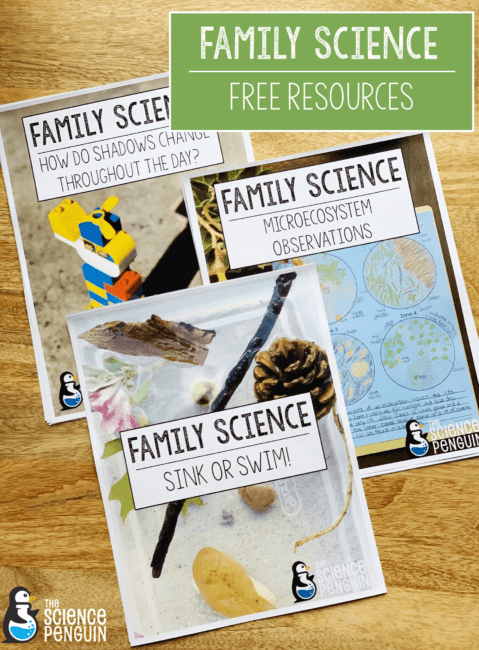 ---
Ari blogs and develops elementary science resources for The Science Penguin. She is passionate about helping elementary teachers strengthen their faith in their abilities to provide high-quality science instruction to all students. You can follow Ari's store here or check out her blog.